expensive looking skin from anti-aging products
This blog post is inspired by harper's bazaar recent beauty article on how to get expensive looking skin.
i loved this feature as it shared that the new status symbol skin is naturally radiant- and well within each of our reach. and it went on to share three steps on key steps to achieving incredible complexion which are: improve clarity, refine skin, sculpt & lift.
improve clarity: tackling uneven skin tone creates the illusion of health and youth

refine skin: targeting dryness and large pores with chemical exfoliators

scupt & lift: stimulating circulation and tighten skin through reflexology and gua sha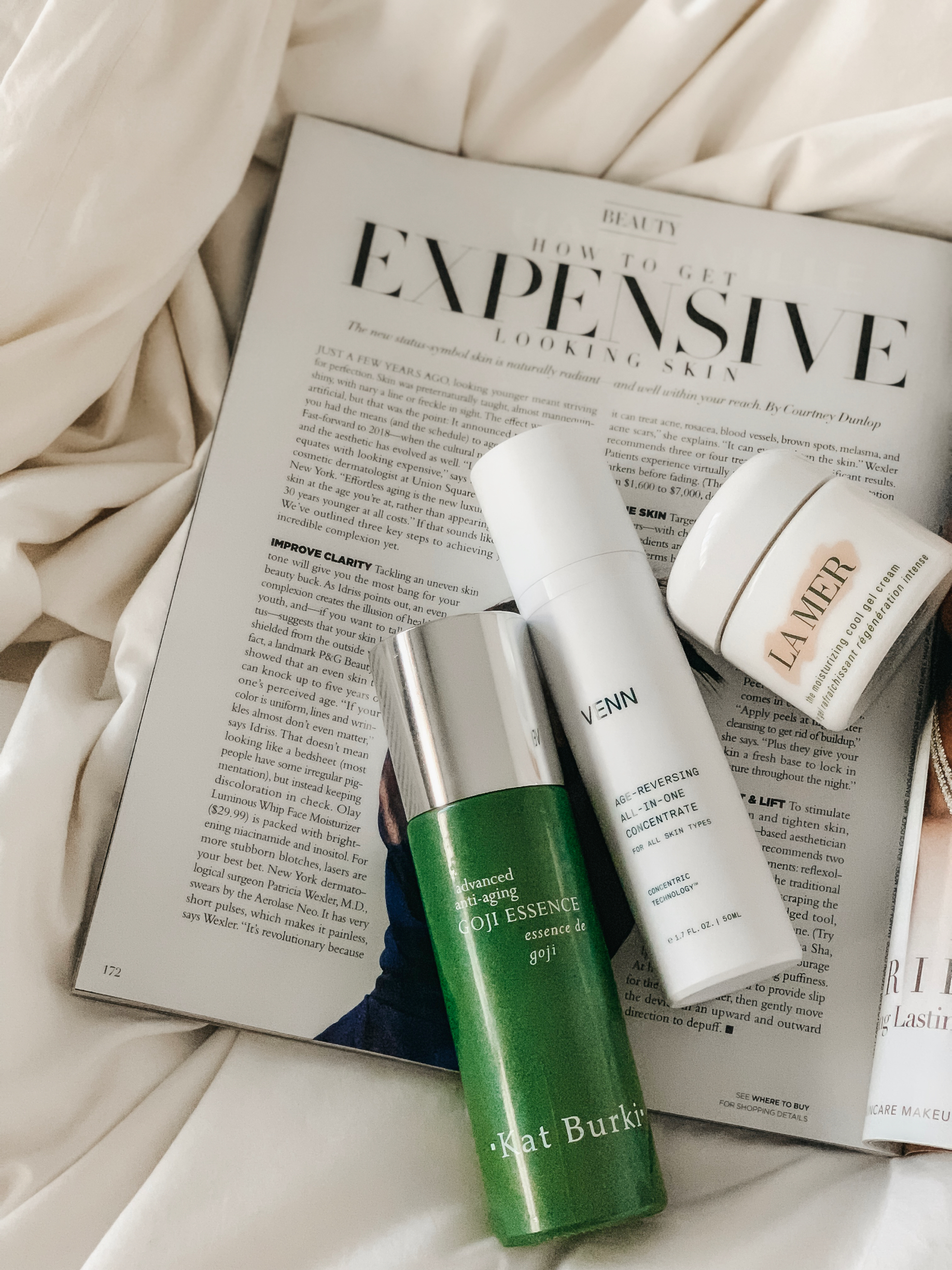 what are my thoughts on getting expensive looking skin?
Use of anti-aging creams & products that fight age and leave your skin refreshed and youthful (regardless of your age).
Here are my three products of choice for improving clarity, refining your skin, and sculpting & lifting:
what it is: Concentrate is a multi-correctional formula, scientifically formulated with naturally-derived antioxidants and high-performance peptides to deeply hydrate and improve the skin's complexion. 89.7% of the ingredients are energising bioactives, including Compound K, the main anti-aging bioactive component of Panax ginseng.

my experience using this product: slight Reduction in the look of fine lines and wrinkles, especially around my eyes and forehead. what i've noticed right away within days of using this concentrate is that the discolouration did minimise and my skin notibaly Brightened. not to mention, so ridiculously soft!!

RECOMMENDEd use: 3-4 pumps after cleansing and before other skincare.

formulated without: fragrance, parabens, silicone, phthalates, mineral oil, sulfates, and colour.
what it is: ultra lightweight gel cream has given my complexion such a fresh and healthy radiance. packed with Micro Oil Gel Capsules for maximum nourishing moisture for the skin, and also helps smooth visible imperfections, fine dry lines, wrinkles and pores. another fabulous ingredient is Lime Tea which acts as a barrier, protecting your skin against pollutants, helping you achieve that pure glow.

my experience using this product: this product really helped smooth the look of slight blemishes (and other imperfections) and pores. truly a fantastic product to help with Dullness and uneven texture. best part however is that this gel MOISTURISER goes perfectly with any type foundation i use (dewy, matter, even tinted moisturisers).

RECOMMENDEd use: ideal for daytime, warm weather, and other times when a true cream moisturiser seems too rich.

formulated without: Parabens, Sulfates and Phthalates.
what it is: combination of Super Foods, Super Acids and Peptides which gently exfoliates, and helps moderate the skin renewal cycle. The Peptides and Lactic Acids create a nice blurring effect whilst the 5% Lactic Acid targets fine lines and wrinkles. the most important ingredient of course is the goji Berry which does wonders for the skin in terms of nutrition, health, hydration and vitality.

my experience using this product: my skin's texture did APPEAR to be more refined, and skin was somewhat firmer by the second week of daily use. not however sure if this is from this product or from the combination of anti-aging products that I have used.

RECOMMENDEd use: Apply onto a cotton pad, making sure The pad is completely soaked (4-5 pumps). Pat directly onto the Face and Neck until fully absorbed. Use before your serums and moisturisers.

formulated without: Parabens, Synthetic Dyes, Synthetic Fragrances, Gluten, Sulfates, Petrolatum and Mineral Oils.
look into these products and have a try//nothing like having that expensive looking skin for yourself!