Spa Day With Bae and Burke Williams
two tickets to relaxation station... with burke williams!
I recently partnered with Burke Williams to share the benefits of massages as a regular part of my self-care lifestyle.
Between working and blogging full time, and add in all the other many things that I find that I have previously committed myself to, I live a very high contact lifestyle where I am always on the go. And my boyfriend, Adam is no different. From when our alarm goes off at 6 am to the minute our head hits the pillow in the evening, we are always moving. And so in the down time that we have, we both LOVE getting massages for many reasons but three specifically: relaxation, reduce lower back pain and to enhance exercise performance.
Thus, when choosing which treatment to experience at Burke Williams, although initially overwhelmed by the many choices, we opted for the Deep Tissue and Sports Massage. Reasoning was that this treatment provides relief for sore muscles, increases flexibility, and addresses issues stemming from overuse, physical activity, and muscle strain. The description alone couldn't have been more fitting for Adam and I, as we both are relatively active- from reformer pilates, indoor spin classes and boxing for myself to all of the above and frequently weekly surfs (yes he's the more active one) for Adam. Additionally, we love getting such targeted massages as even though we are by no means athletes, they in fact improve athletic performance, speed recovery, and help improve conditioning and maintain performance.
But that's not all! As we stopped by the Mission Viejo location, we were able to enjoy many of the many features of the spa facilities. I personally loved the interiors with many references to a (tropical/elegant) British Colonial plantation with its many shuttered windows and elegant furnishings throughout.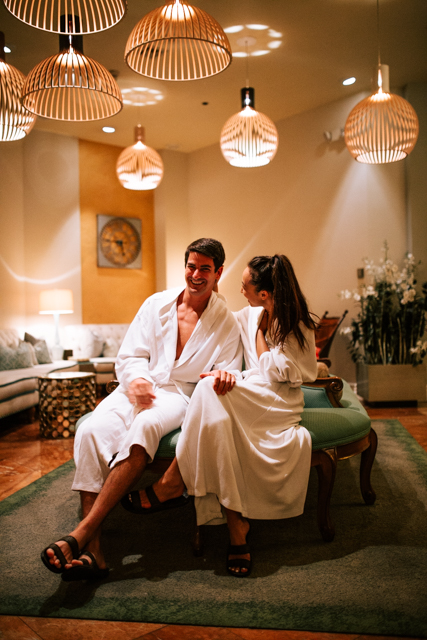 focused, therapeutic and
restorative.
Targeted techniques which focused on the deepest layers of muscle and tendon (which let me tell you felt SO GOOD).
And truly the best part was that this was something we could do together as we do spend most of our week apart, with respect to the demands of our jobs.
Anything that is inclusive I will always opt for, so thank you Burke Williams for making this easy to plan for both Adam and myself.
SO NOW IT'S YOUR TURN TO treat yourself and your partner, in any treatment THAT YOU FANCY.
WOULD BE RUDE to not indulge YOURSELF right? and trust me, this is something you'll want to bring your partner along!
Massive thank you to Burke Williams for sponsoring this post; all thoughts and opinions are my own.